When:
January 8, 2021 @ 2:30 pm – 5:00 pm
2021-01-08T14:30:00-05:00
2021-01-08T17:00:00-05:00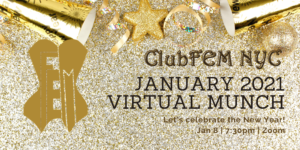 Getting Together to Celebrate the New Year While Staying Apart
Happy New Year 2021 to all our members and candidates! So 2020 turned out to be a total shitshow. We've all managed to roll with the punches. Let's raise a glass to hopefully better days ahead. The pandemic is no excuse not to celebrate. You are invited to share good times virtually with good friends, new and old, at ClubFEM NYC's first munch of the new year.
Join ClubFEM NYC on Friday, January 8, 2021, from 7:30 p.m. to 10:00 p.m. for an evening spent connecting with other like-minded individuals who wish to develop sincere Female Dominant/male submissive relationships! Our January 2021 munch will be via Zoom.
ZOOM LINK WILL BE EMAILED TO REGISTERED ATTENDEES 24 HOURS PRIOR TO THE EVENT.
Feel free to eat and drink whatever you like on the call.
All attendees must be fully clothed but otherwise, the dress code is whatever makes you comfortable.
Be aware that this time seating is limited, so it is first-come, first-serve. You must register by 8 p.m. on Wednesday, January 6, 2021 (no exceptions).
If you RSVP and are unable to attend, you MUST notify us at rsvp@test-937acc.ingress-earth.easywp.com ASAP. Failure to do so will cause you to be placed on probation and you will not be invited to the next munch.
The ClubFEM NYC munch provides a safe, fun, social environment for newcomers to meet and socialize with members of ClubFEM NYC in order to learn about the Club and meet others in the lifestyle.
Please go to our website clubfemnyc.com to review our rules and requirements for munches and other events.
We hope to see you on Friday, January 8, 2021. If you have any questions, please contact us at rsvp@test-937acc.ingress-earth.easywp.com.
VIRTUAL EVENT RULES
We expect all participants to maintain an atmosphere of respect and fairness. Anyone who violates this standard of behavior including engaging in any form of harassment, may, at the discretion of the organizers, be immediately removed.
NO nudity. All attendees must be clothed.
NO lurkers. Cameras must be turned on AND we must see your face). Please engage.
NO talking over others because then no one is heard.
NO background noise. Turn off your TVs and radios. Please be mindful of activities that could create additional noise, such as shuffling papers.
Mute your microphone when you are not speaking.
NO sharing personal information on video chat. We advise you to use a private chat or FetLife to directly message an individual.
NO means No. If an attendee indicates that they don't wish for a private message. Cease and desist immediately!
NO solicitation for clients.
ANYONE CAUGHT BREAKING THE RULES WILL BE IMMEDIATELY REMOVED!